Iyengar Yoga Center of Denver
Transformative yoga for the whole person
Testimonials
"........Thank-you for the encouragement and thoughtfulness..."
Upcoming-Workshop
Hips and Low Back Workshop
February 17, 2019 2:30-4:30pm
with Dana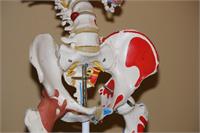 The pelvic and lumbar region is an area of chronic pain, frustration, instability, and/or tightness for many.
Learn how to let your yoga practice support physical and emotional well-being by addressing the pelvis and lumbar spine.
This workshop will cover exercises you can incorporate into your home practice to stabilize, strengthen, and open your hips and low back.
Iyengar Yoga Center of Denver offers:
Traditional hatha yoga taught in the Iyengar tradition, thanks to the guiding light of BKS Iyengar
Ways to use yoga to relieve physical ailments and stress
Well trained instructors committed to providing a positive yoga experience, with well honed observation and correction skills to help create an optimal pose, including the use of props to assist learning and advance accurate alignment
No Glitz, No Glamor, It's all about the yoga!!