Iyengar Yoga Center of Denver
Transformative yoga for the whole person
Testimonials
"........Thank-you for the encouragement and thoughtfulness..."
Weekend-Workshop:ASANAS-ARE-MY-PRAYERS-AND-MY-MEDITATION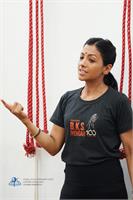 Visiting Senior Iyengar Yoga Teacher
DEVKI DESAI
MAY 10-12, 2019
$180
Devki will help you bring peacefulness and "effortless effort" into your poses.

Devki lives, studies, and teaches in Pune, India and brings the philosophy of the Yoga Sutras and the essence of RIMYI (Ramamani Iyengar Memorial Yoga Institute) to her asana teaching. Her young and energetic manner, coupled with her precise instruction, will engage you in meaningful ways.
Iyengar Yoga Center of Denver offers:
Traditional hatha yoga taught in the Iyengar tradition, thanks to the guiding light of BKS Iyengar
Ways to use yoga to relieve physical ailments and stress
Well trained instructors committed to providing a positive yoga experience, with well honed observation and correction skills to help create an optimal pose, including the use of props to assist learning and advance accurate alignment
No Glitz, No Glamor, It's all about the yoga!!